Joined

Feb 7, 2008
Messages

4,312
Location
Hi all
So I have a urge to build a ' standard ' delta trike , by standard I mean not a Python , twisting chain or MBB.
So driven rear wheel and front wheel out front on a fork.
What do I want ?
Short as possible - storage - fit in car etc etc
Narrow as possible - fit through barriers - fit in car etc
170' front wheel movement
Light as possible
Nice to have
2wd
Suspension - 2 or 3 wheels
First think is constraints and then possible solutions.
Nothing is necessarily true nor cast in stone just observations ?
So first thing to do is look at the engine and it's mounting [ i.e seat ]
Now the 60" is not fixed and depends on several variables some change able and some constants ?
| | | |
| --- | --- | --- |
| Constants | Variables | |
| Leg length | Seat back angle | the more laid back the seat back the longer the engine becomes |
| foot length | Pedal crank length [ not really ] | short cranks just move BB forward , maybe useful ? |
| | height difference between seat base & BB | Obviously if yours knees were bent 90' it would considerably |
| | | shorten the trike at the expense of more height and less power |
From the example above it can be seen if the rear wheel axle was on the left hand dotted line that would add 1/2 a wheel diameter to the length 10" [ 25cm ] for a 20" [ 405 ] wheel
If a normal fork was mounted in front of pedals 2" [ 5cm ] for clearance and a 20" [ 50cm ] wheel adds another 22" [ 55cm ]
This gives a total length of 92" [ 232 cm ]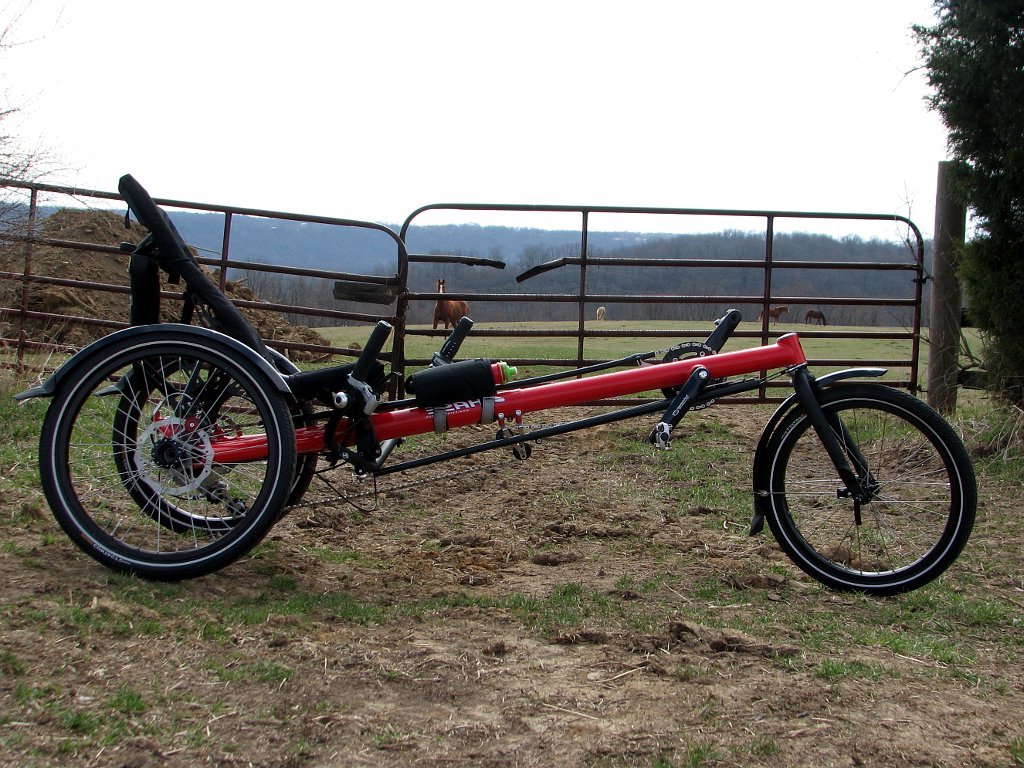 Strangely the Hase kettweisel has a total length of 81" [ 205cm ] probably because the pedals are raised and so half the wheel width is under the pedals.
This is Brad's DeltaWolf which will be longer than the Kett due to the lower pedals , also this show's well what happens as we bring the drive wheels under the seat to shorten the trike.
The plus side is the engines CofG comes closer to the axle so increasing stability in corners [ sitting on a wider part of the stability triangle.
the negative side is the wheels can come in contact with the elbows.
On a home build that is not much of a problem as body work i.e fenders can be built to stop that.
The Finns like to get the rear wheels well forward :-
This is Sakari SH18 delta trike , also notice perimeter frame rather than mono boom , another option to be discussed.
Of course 16" [ 305 ] wheels could also shorten the trike by at least 4" [ 10 cm ] however the velomobile boys consider 16" wheels really need suspension , certainly my 2 wheeler with a 16" front wheel needs very careful handling when mounting dropped curbs etc due to it's smaller radius.
So a look at engine mounts next ?
Paul
Last edited: