Joined

Sep 12, 2012
Messages

2,807
Location
Thanks to Brad and Kate, and this website, we are drawn together by this hobby, of recumbents/bikes-n-trikes/and other likes.
But many among us, have other talents, that should be shared.
Six years ago, this month, I started a thread, 'My Other Talent'.
It highlighted AZ members, and their personal creative talents, other than bike building.
There were numerous contributors
Regulars like Sir Joey and his creative primacord knot tying, his drum playing days, and more.
Ticktock and his beautiful clock making, and Savarin with his telescopes, just to name a few.
We've seen train building, truck customizing, poems, and others.
Unfortunately, some of the photo's have been lost...but not all,
So check out the old thread, and see and read about the amazing talents some of your fellow AZ members possess.
The original thread can be viewed here.
https://www.forum.atomiczombie.com/showthread.php/7595-My-Other-Talent/page8
There was great interest by many, showing all the interesting talents/hobbies among our members.
I feel it is time to start a new chapter in the search for other talent,...
.What's Your Other Talent?
I'm starting this
NEW !
thread off, with a re-posting of some of the art work I used to do.
Also, with a thought of the original contributors, re-posting to include, lost photo's.
My talent at the time was Pyrographic art. A fancy title for woodburning. I burned on just about anything.
Did many covered bridges, animal portraits, people too. Entered some of my work in various local shows, won a few awards.
Below are some of my work.
I created this business card by burning the edges, then printing on card stock.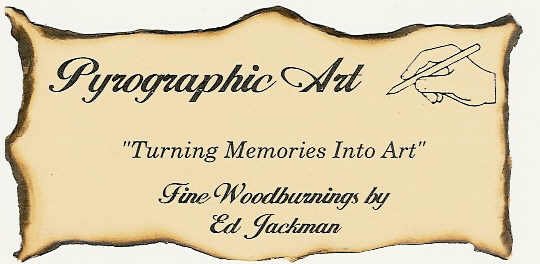 My work on display at our annual fair. I had four pictures submitted.
Took 1st and 2nd with these two. Both were commissioned work, so I didn't get to keep them.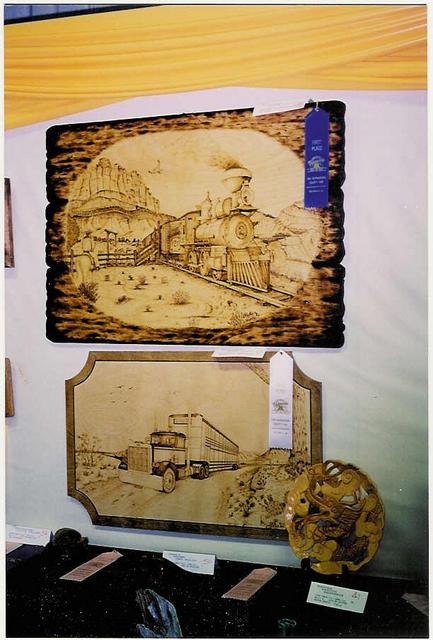 This mill picture took a 1st place in a date festival in Indio, Ca.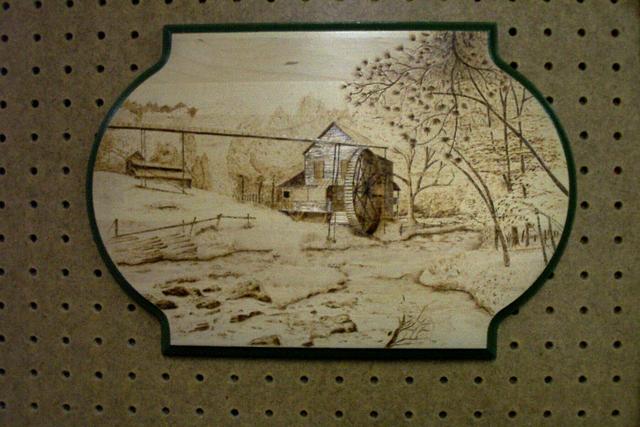 Mallards landing in a background scene, influenced by the wood grain of the board.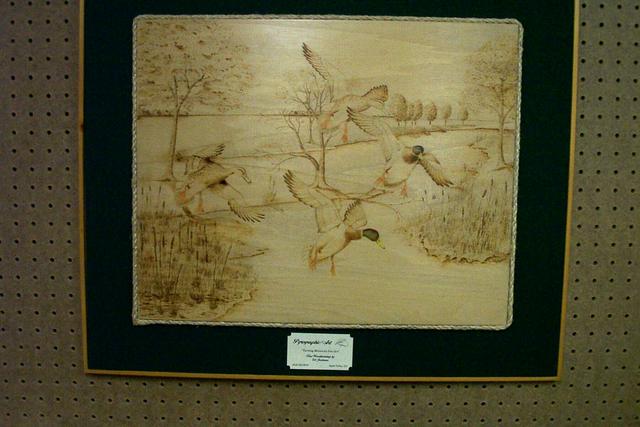 This is the last piece I was able to complete. My work involved very fine detailing, therefore requiring more youthful eyesight.
Often my work would require the use of a magnifying glass to see with.
Not because of bad eye sight, (back then) just the need to be very detailed.
I have done portraits, both human and animal. But this piece is by far, my most cherished piece. It measures 2' x 4'.

Its difficult to see, as presented here, but there are birds flying, and snakes and lizards crawling.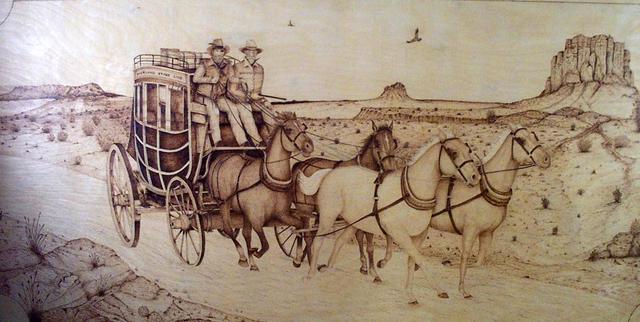 So, dig out those old pictures, and post them here, in the
NEW! .... What's Your Other Talent?
Everyone is encouraged to showcase their present and/or past talents, creations, poems, or whatever, for the world to see.
Last edited: